3 Reasons Why Tornado Insurance Claims Are Challenging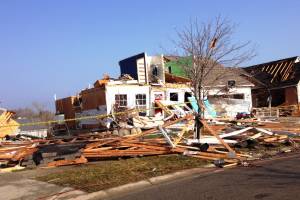 Multiple tornadoes twisted through the states of Michigan, Illinois, and Indiana this week leaving behind a trail of leveled homes, businesses and debris. It is too early to assess the property damage but with the reporting that insured losses from U.S. tornadoes/thunderstorms in 2014 totaled $12.3 billion the cost will likely be high. As many policyholders begin the process of filing property insurance claims, we've found three reasons why tornado losses are especially challenging.
1. They cause both wind and water damage – Tornadoes, defined by the National Weather Service as "violent rotating columns of air," frequently tear roofs off of buildings and shatter doors and windows, opening the structure up to  both wind and water damage. Property destruction from wind can cause both obvious and hidden damages. Identifying the impact of high winds or the direct impact of a tornado on the structural integrity of a building is complicated; this process often leads to significant disputes between property owners and insurance companies on how to properly repair a building. Water damage, resulting from heavy rain entering openings created by the wind can also create challenges. For example: identifying what building materials can be properly dried out versus what building materials must be replaced.  And, if the storm results in flooding, the water damage from the flood is a completely different peril which must be claimed separately, if covered at all.
 

They say that tornadoes are the most violent storms of all and I believe it since I've seen them level entire communities," said at Michigan-based Globe Midwest/Adjusters International. "Tornado claims can be extremely complicated because policyholders have to basically prove whether the damage to their home or business was caused by the actual tornado or by the wind and rain that usually followed it. It can take a whole team of experts to sort out the actual cause of damage and provide sufficient evidence to the insurance company to support the claim.
Carl Gross, Vice President & CAO
2. Outlying areas may also be affected – It's not just the buildings in the tornadoes path that are affected. Tornadoes can destroy neighborhoods that are miles away from the spot where they touch down. According to FEMA, "Damage paths can be in excess of one mile wide and 50 miles long." This means that businesses and houses that are miles away from the tornado may need to file insurance claims for power outages, flooding and wind damage.
 

TI've heard reports that here in Michigan, over 30,000 customers are without power. That means that grocery stores and other retailers and wholesalers that rely on cold storage may lose substantial stock due to power outages. Many policies have endorsements to cover such a loss
Ethan Gross, COO
3. Exclusions may apply or extra coverage/endorsements may be needed – When it comes to tornadoes, several exclusions may come into play.
Some property insurance policies have mold exclusions, meaning they will not pay to remove any mold that grows as a result of a tornado.
The Ordinance or Law Exclusion from an insurance policy can also prevent you from having a full recovery following a tornado. Code upgrade coverage is available to counteract this exclusion. Without code upgrade coverage, the insurance company will only pay to get the house back to the state it was in before the tornado hit but they will not pay the additional costs to meet the codes upgrades required by local regulators.
Roof replacement is another example. If the damaged roof was older than 20 years at the time of the tornado, the insurance company may take an excessive amount of depreciation. While most replacement cost policies will allow you to recover the depreciation when the roof is replaced, recent endorsements drafted by the Insurance Services Office (ISO) allow carriers to only pay actual cash value on roofs over 20 years old.
The ISO also created an endorsement that excludes cosmetic damage from wind and hail, which limits the coverage to areas directly, impacted thus excluding the cost to match shingles on undamaged portions of a roof.
"After a property loss occurs, homeowners will need to work through a complicated insurance claims process in order to get their properties repaired or rebuilt. The biggest challenge with making a tornado insurance claim is understanding your coverage and knowing how to get what you're owned under your policy. Some home insurance policies are extensive and will cover everything and others are restrictive and will pay for very little. This is why you need an insurance expert to guide you through the process."
For immediate help with your tornado claim in Michigan, Indiana or Illinois, call 1-800.445.1554 or email Carl Gross at cgross@globemwai.com. For further reading, visit: