Flood Insurance for Businesses – Four Steps to Filing Flood Claims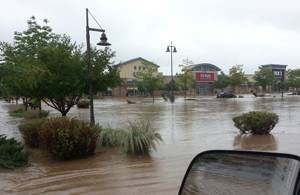 A massive rain storm slammed the East Coast last week delivering a deluge of rain and rising floodwaters. Because floods are always costly — total flood insurance claims between 2005 and 2014 averaged more than $3.5 billion per year according to FloodSmart.gov — it's likely that the surging waters will cause a boatload of trouble for business owners.
"Flood claims are always challenging because even if you've pumped out the water, or the water  recedes, things may appear to be okay initially, however, you may find a higher degree of damage later on because it can be hidden in the walls, above the ceiling and under the floor," said Carl Gross, Vice President of Globe Midwest Adjusters International which handles claims throughout the Midwest and Southeast. "And for those businesses that were hardest hit, owners will be dealing with lost inventory, wet furnishings and potential mold which means that they have a lot of timely and expensive remediation work ahead of them."
How can business owners who were affected by flooding minimize their losses and maximize their financial recovery?
1) Know That Flood Claims Are Different
Filing a flood insurance claim through the National Flood Insurance Program (NFIP) is different than filing other types of property damage claims with your insurance company. FloodSmart.gov defines flooding as a general and temporary condition where two or more acres of normally dry land or two or more properties are inundated by water or mudflow. This type of water damage is covered under separate flood policies offered by the NFIP. With NFIP claims, there are many different steps that need to be taken, and strict deadlines that need to be met. For example, Proof of Loss forms (on which you submit your estimated total property damage) must be completed and filed within 60 days of the flood unless an extension is given in writing – a quick turn-around time for business owners to meet during an already stressful time.
The flood insurance program, which was created by an act of legislation called the National Flood Insurance Act of 1968, sells its policies through private insurance companies that participate in the program. These private insurers also service the flood claim policies but NFIP's staff oversees the whole process.
 

If your property floods, then it is considered surface water damage and you will need to file your claim through the NFIP. Since NFIP always puts deadlines on their claims filing window, then time is of the essence. So while other insurance policies have some flexibility when it comes to filing claims, flood claims need to be filed as instructed under the agency's strict coverage provisions or policyholders won't get the full amount that they're owed under their policy.
– Carl Gross 
2) Understand What's Covered and What's Not
When there is widespread flooding, then the NFIP's flood insurance policies kick in and cover both a business' building (or the physical structure being used) and the business' contents (or furnishings, supplies, equipment and inventory). This includes water entering through missing roofs, windows and doors, as well as seepage and ground water – especially if you have a stream, lake or beach that backs up to your property – and backed up sewers. NFIP policies exclude Business Interruption costs (lost revenues due to the property damage) and will also not cover operating expenses, like water and electricity costs, that still need to be used and paid for while repairs are made.
"Commercial policyholders must read their policies to understand what will be covered if they sustain a water loss. If they don't understand the coverage, then they should seek an explanation in writing from their broker or agent," said Ethan Gross, President of Globe Midwest Adjusters International. "There may be some surprises in store. For example, if you have not been maintaining your property – your roof is more than 20 years old and has not been replaced or your windows, walls and doors were in disrepair – the insurer might deny your claim because of your failure to maintain the property."
3) Take Steps to Mitigate the Damage
Business owners and their maintenance staff will want to turn off the main water pipes, extract the standing water, and remove all carpeting,  furniture and inventory as soon as possible in order to prevent further damage and reduce mold growth. This may require bringing in a licensed water extraction company to dry out your building, office or warehouse. Taking these steps is allowed and encouraged under the provision of reasonable repairs which is included in most commercial policies.
"Water damage remediation often requires noisy fans to blow for days to dry out interiors as well as construction in a portion of the business. Your policy may also pay to temporarily relocate your employees to a new location and to store non-damaged inventory, equipment and supplies offsite while the repairs are ongoing," said Carl Gross.
4) Consider Hiring Your Own Experts
All policyholders have a right to hire their own experts — including engineers, restoration contractors, architects and public adjusters – throughout the claims process. These licensed professionals can handle all of the tedious details required when submitting a property insurance claim so that you can go back to managing your employees and servicing your clients. For example, a water extraction company may need to make a moisture survey map that shows where the water is and where it's going, engineers may need to prove that the flooding weakened the slab on which your property rests, architects may need to bring your new building up to code and public adjusters may need to help you gather all of the required documentation to prove your claim.
 

Any business owner who has had to file a property damage claim knows that it can be a challenging process because of the many exclusions and coverage issues that come into play so it is important to have professionals on your side to ensure that you get what you are due from your insurance coverage. Our team has a thorough knowledge of the coverage provisions of the National Flood Insurance Program's (NFIP) policies and our adjusters have specialized training and expertise in appraising, preparing and negotiating flood damage insurance claims covered by NFIP policies. Don't be afraid to ask for help.
-Ethan Gross
For immediate assistance with your flood claim in Michigan, Illinois and South Carolina, call 1-800-445-1554 or email Carl Gross at cgross@globemwai.com.
For further reading on this topic, visit: