Turkeys, Trees and Trimmings – How to Handle Holiday Fires at Home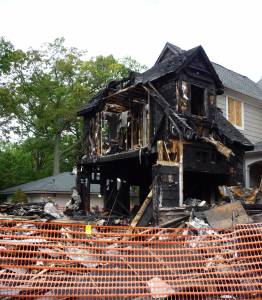 Whether they're caused by candles, cooking or Christmas trees, house fires over the holidays are a common occurrence. According to the National Fire Protection Agency, more home cooking fires occur on Thanksgiving Day than any other day of the year. And in 2009-2013, Christmas trees ignited an estimated average of 210 home fires per year, resulting in an annual average of $17.5 million in direct property damage.
Why? Insurance experts say that the combination of chaos, cooking and celebration leads to hazardous conditions in many homes.
 

It's just like anything else over the holidays, you're thrown off your schedule. You've got more family and commotion and you've got something on the stove and the doorbell rings and your company's there and all of a sudden, your kitchen and other heating sources are left unattended. Although these fires can be prevented with precautionary measures, house fires over the holiday are an unfortunate fact of life.
– Carl Gross, Vice President and Chief Administrative Officer at Michigan-based Globe Midwest/Adjusters International
What advice would Gross give to homeowners who are filing fire insurance claims this holiday season?
Call your insurance company

The first thing that you will need to do is contact your insurance company and file a claim. They will open a file and schedule a company adjuster to come visit your property and inspect the damages.

Take photographs and videos of the property

If emergency officials allow you and/or your family onto the property, you should shoot photos and video footage of every room that you have access to. This can be done with a regular camera or a phone. When you're done, the files should be emailed to you and a trusted friend or family member so that they can be accessed offsite later as proof of damage.

Secure the perimeter

You need to secure your property by boarding up any broken windows and making sure that your alarm system is turned on if it is still operable. Also, for larger properties or homes containing valuable artwork, furnishings or other collections, you may want to consider hiring a security team to protect the property as many residential insurance policies will reimburse you for this expense.

Consider hiring a public adjuster

A public adjuster works only for you, the insured, and not for the insurance company. They will act as your liaison with the insurance company and other necessary experts such as engineers and cleaning specialists to document all of the property damage, file the necessary paperwork and make sure that you get everything that you are entitled to under your insurance policy. 
For more information on how Globe Midwest's public adjusters can help your family recover from a holiday home fire, visit our website or call 1-800-445-1554.