What You Need to Know if Your Business Burns Down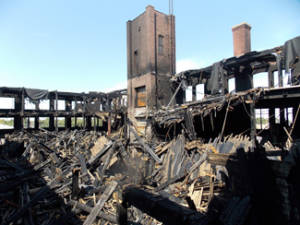 What will you do if your business burns down? Many owners and managers face this reality each year. According to the National Fire Protection Association, U.S. fire departments responded to an average of 3,340 fires in office properties annually from 2007-2011 resulting in an estimated $112 million in direct property damage. While the fire department and other emergency workers are busy putting out the flames and getting everyone to safety, what should the company's leadership be doing to ensure that their property will be repaired and/or rebuilt? To find out, we talked to Ethan Gross who is Chief Operating Officer at Michigan-based Globe Midwest Adjusters International. Gross recommended that business owners consider taking the following actions within 24 hours of the fire:
Call your insurance company

The first thing that you will need to do is contact your insurance company and file a claim. They will open a file and schedule a company adjuster to come visit your property and inspect the damages.

Mitigate the damage

In order to prevent further property damage, insureds are responsible for stopping water leaks and removing undamaged items from the building if it is safe to do so.

Take photographs and videos of the property

If emergency officials allow you and/or your staff onto the property, you should shoot photos and video footage of every room that you have access to. This can be done with a regular camera or a phone. When you're done, the files should be emailed to you and a trusted staff member so that they can be accessed offsite later as proof of damage.

Secure the perimeter

If you are concerned about vandalism and theft, you should hire a security team to protect the property. Most commercial insurance policies will reimburse you for this expense.

Consider hiring a public adjuster

A public adjuster works only for you, the insured, and not for the insurance company. They will act as your liaison with the insurance company and other necessary experts such as engineers and cleaning specialists to document all of the property damage, file the necessary paperwork and make sure that you get everything that you are owed under your insurance policy. 
 

Dealing with the aftermath of a fire is always a traumatic event for business owners. Most are in shock and unsure of how they're going to continue to serve their clients. Public adjusters are licensed experts who will settle your claim for the maximum amount; and free you to focus on your company's recovery. To us, it is not just about getting the most out of your fire damage insurance claim, but helping you through the entire recovery process. From evaluating the extent of the damage, to meeting with the insurance company's adjuster, there is a lot that needs to be done following a fire.
Gross notes that business owners will need to anticipate and prepare for any business interruption losses (or the amount of lost income resulting from their inability to serve their clients and/or deliver promised goods or services) because these costs can be extensive. Although this can be an extremely complicated process, Gross says that public adjusters will manage estimating these losses and submitting the required documentation to back up the estimates as part of their services. He also suggests that business owners and staff save and document all extra expenses and other costs directly related to the fire. This would include rent for temporary office locations, extra gas for staff to drive to the new workspace, security detail fees, etc.
 

Public adjusters provide total business interruption claim management to ensure integration with the property and extra expense portions of the claim. Having an insurance expert by your side to coordinate the tracking of extra expenses, and prepare and submit claims throughout the recovery period can make all the difference when it comes to getting your business up and running again quickly. You deserve to have an expert by your side to guide you through this process so that you can do what you do best – serve your clients.
For more information on how Globe Midwest's public adjusters can help your business recover from a fire, visit our website or call 1-800-445-1554.