Property Insurance for Hospitals – "Must Have" Insurance Coverages for U.S. Medical Facilities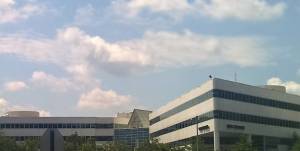 The word "hospital" comes from the late Latin word "hospes" which means an "inn, a place where guests may go." In fact, today there are over 5,627 registered hospitals in the United States according to the American Hospital Association!
Beyond caring for the immediate injured and sick, these hospitals have strong and real-time economic and educational impacts on the communities and neighborhoods they serve.
Because of the vast number of services hospitals provide to their patients, it is imperative that every hospital administrator and/or risk manager have a disaster plan in place to ensure that the hospital can quickly and safely resume operations after a property damage incident.
However, resuming operations after a disaster requires access to money, and lots of it! This is why hospitals must purchase the proper commercial and business property insurance coverages. So what are some of the essential insurance coverages every hospital needs to have? We provide a brief overview below:
 

Typically, medical claims are quite costly. In addition to traditional property and business losses, medical facility losses usually involve the repair and/or replacement of sensitive and expensive medical equipment and technologies.
-Globe Midwest's Senior Loss Consultant, Stuart Dorf
1.) Business Interruption Insurance – Hospitals need to quickly and safely resume operations in the face of a disaster. To successfully accomplish this goal, hospitals need to have disaster and business continuity plans that set forth the actual steps/tasks, protocols and personnel needed to effectively coordinate and administer a disaster recovery strategy. Business Interruption Insurance provides capital to cover certain "incurred losses" such as lost revenue, fixed expenses, the costs of operating from temporary locations and the need for immediate/additional personnel, supplies and equipment.
2.) Flood and Earthquake Insurance – Because certain parts of the country are more susceptible to natural events like floods and earthquakes, standard commercial insurance policies do not typically cover floods and earthquakes. However, flood insurance is available from the National Flood Insurance Program (NFIP) and earthquake coverage can be purchased from private insurance companies. It is important for hospitals and medical facilities to have a professional evaluation to determine whether they are located in an area that is prone to certain natural disasters.
 

Oftentimes, insurance companies are reluctant to make the quick commitments required in order to open a temporary facility. This means the hospital's management will have to take the lead in making these arrangements and will have to work with their insurance carrier to get the funding they are owed under their property insurance policy.
-Globe Midwest's COO, Ethan Gross
3.) Equipment Insurance – Hospitals own and/or lease a significant amount of sophisticated and specialized equipment. These items are difficult to maintain and not always readily available for purchase and replacement. Ensuring that essential medical equipment is up and running and that experts are on-hand to oversee the operation and maintenance of the lifesaving equipment is essential to a hospital's survival after experiencing a property disaster. This means that hospitals must have insurance coverages that adequately address the repair/replacement of essential equipment, as well as providing the monies needed to support required personnel, engineering professionals and technicians.
Hospitals purchase insurance policies to protect against catastrophic losses. Making sure that the coverage is adequate and that the medical team and facility are ready to respond to, and recover from, a natural disaster, is the best way to ensure that everyone can continue doing what they do best – caring for patients and serving the surrounding community.
---
If you have any questions about the contents of your commercial property insurance coverage or how Globe Midwest Adjusters International can help you with your hospital's property insurance claims, please contact us by phone at 1.800.445.1554 or email Stuart Dorf at sdorf@globemwai.com.
For tips on the key "plans and procedures" that every hospital should have in place to ensure resiliency and continuity in times of disaster, read "Hospital Disaster Preparedness – How to Prepare Your Medical Facility for a Natural Disaster."